Hani and Heather's little
Noor
is a cutie!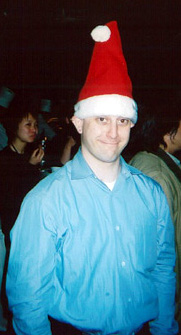 santa's little helper ren
mieko the red-faced reindeer
Yesterday was The Day.
Bad news: didn't get promoted.
Good news: got a bonus and still have a job.
Better news: Todd and Hani got promoted, so there is justice in the world.
Did my once-a-year drinking last night, but I reaffirmed that I really, really don't like the taste of alcohol. And I verified that
fish & chips
are good. Didn't get slammed, and since we started at 5pm, by 10 everyone was tanked and I was hungry. Got home by 12:30 with all my morals and brains in tact.
Woke up this morning to see Tokyo blanketed in white. Causing havoc with the trains, but the cold is easier to deal with when it's snowing.
Jeff and Ericka arranged a fancy year-end dinner, so on Saturday we all went to
Tableaux
for some
eatin' and drinkin'
.

Then on Sunday I spent all day at iai; popped a blister on my right index finger and damn that hurt.
Masa came over for dinner so she and Hiroko made up a big pot of
tonjiru
and we feasted. Watched some tv, but got bored so we cranked a few levels of
Torneko's Big Adventure 3
.