Went over to Nancy's new place tonight for a Losers-who-had-no-place-to-go-this-holiday-season turkey dinner. Damn that turkey was juicy! I was in charge of the mash'd potatoes, but the SpudsInABox soon ran out. So Tony and I popped off the the mom--n-pop grocer around the corner and grabbed two bags of potatoes. A quick skinnin', hearty boilin', tireless mashin', and lots of cream, butter, spices, and sour cream, and we had us a heaping bowl of mash'd potatoes. Nancy and the gang were busily cranking through bottle after bottle of wine as Hiroko and Haruka put away plates of feeding. I had a heaping plate before I headed back to the office for the always exciting Friday-night-at-work-because-everyone-else-was-smart-enough-to-turn-in-their-vacation-requests-early night.
I got a new cell phone:
NEC's N504is
.
It has a high-res CMOS camera on it that takes wonderful pictures: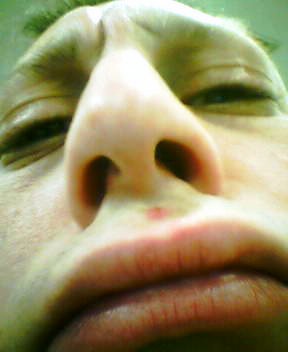 .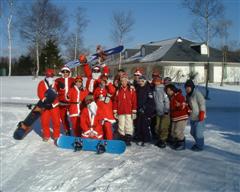 Had a lovely weekend at
Appi Kogen
.
Matt
at
Tabibito Travel
sets up these killer ski/snowboard tours. We crashed at
Rocky Inn
-- a really nice "pension" with a sweet fireplace in the middle -- and hit the slopes for 2.5 days.
The conditions were pretty bad; not much base and many runs closed. Kind of icy and grass showing through...but then Matt and some of the more wacky folks jumped some ropes into the closed trails and we found tons of fresh powder. Amazingly, ski patrol never even came by, so we kept ducking ropes and hitting untouched powder on closed-off trails for 2 days. Once, when walking out of the bottom of a sweet face of powder, some official-looking dudes on a snowmobile came up behind us with the siren blaring. But all they wanted was for us to get out of the way, and off they went!
After boarding we hit the onsen in the hotel across the road, hung out around the fireplace at Rocky's, and basically talked smack and goofed off all night. And damn the icecream was good, too.