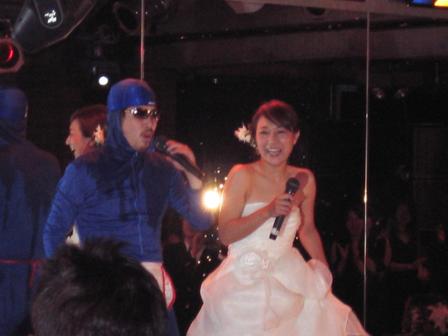 Went to a cool place, The Orbient, in Aoyama for Spike and Kusu-chan's wedding party. I was styling in my blue kimono with NYC bling-bling. Spike and his boys put on a great Water Boys show, and at then Kusu-chan changed into her naughty nurse outfit and Spike into his baby blue velour adidas track suit. Many
photos
taken. Many drinks drink'd.
Saw
Chimi
for the first time in forever. She's cranking up for the Honolulu Marathon and dancing like a Takefuji Girl. Been busting her butt at
work
for a couple months as she's got some big project about to go live. Don't think it's the Japanese Gold Box, but she promises it'll be something good so I have to spend lots money. She's really loving her job, which is sweet because working at Morgan Stanley was really bumming her out, and I'm glad she's found something she enjoys so much.
Mieko and Tomo are so cute together; they're finalists in the
bakappuru
(Baka Couple aka Pair of Loons) but have some strong competition from
Will
and Sachiko, and of course Spike and Kusu-chan.