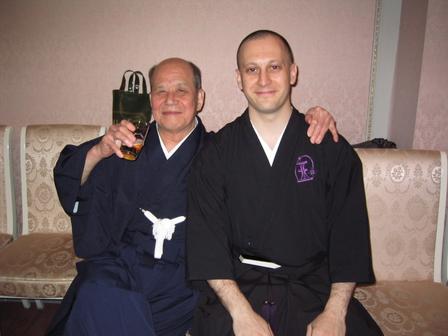 Shiokawa-gosoke may be 80, but as long as he's got a beer he's smiling!
Got to the dojo about 12:30 and had lunch. Folks started showing up and a little after 1pm we had an instructor's meeting to go over so administrative stuff and also talk about the opening ceremony schedule. Very important to get everyone's titles correct!
I changed and hung around the dojo as people came in and out. Niina-gosoke came back with Shiokawa-gosoke an hour later and he did 'kenbarai': dispelling evil spirits by wielding his sword in the four corners of the dojo. We took some
photos
and then headed across the street to Mitsukoshi Department Store for the official ceremony.
There were some speeches and then Naganuma-sensei and I demo'd some cutting, and then we ate and drank and chatted about for another hour.
Afterwards we came back to the dojo, changed, and went out for sushi and more smack-talk.